By Tina Rideout
 Choosing a Hummingbird feeder
 Hummingbird Feeders: Sheltering Nature's Lovely Creatures
 Hummingbird Feeders
 Feeding the Hummingbirds
 Humming Bird Feeders
 Hummingbird Feeders – Your Guide to Get Hummingbirds Buzzing Around Your Backyard
 All About Humming Bird Feeders
 Non-Leaking Hummingbird Feeders
The hummingbird fascinates us as we watch it extract nectar from flowers or our brightly colored feeders, because a hummingbirds wings flap at such a high rate of speed they seem to be suspended in air.
Watching and attracting hummingbirds to our flower gardens has become very popular. Therefore, dozens of styles of hummingbird feeders have emerged.The hummingbird fascinates us as we watch it extract nectar from flowers or our brightly colored feeders, because a hummingbirds wings flap at such a high rate of speed they seem to be suspended in air.
Some of the feeders on the market are very artistic, nothing wrong with a nice design as long as they meet the purpose intended, attracting and feeding hummingbirds.
So how do we know what to look for in a hummingbird feeder?
Even though hummingbirds seem perfectly happy flying while they are feeding, they actually prefer to sit, so a feeder with a built in perch is ideal.
Unless you actually know how populated your garden will be, start out with a smaller feeder.
A clean feeder makes a happy hummingbird. Be sure to purchase a feeder that is easy to clean and maintain. Keep your feeder filled so you will attract more hummingbirds.
Add-on ant moats or built-in ant protective feeders will help control those pesky ants.
Bees and wasps love the color yellow so stay away from hummingbird feeders with yellow features. Consider the shape of your feeder find one that keeps the bees and wasps from reaching and feeding off your nectar mixture.
Hummingbirds are attracted to red, red, red.
Find a wind and rain resistant hummingbird feeder. Rain water will dilute and contaminate your nectar solution. If your feeder does not have a rain guard, you can purchase metal or plastic disks, designed just for hummingbird feeders. A new pole mounted wind resistant feeder is also now available on the market.
Finally a recipe for that wonderful nectar the hummingbirds love to feed on.
The recipe to keep your hummingbirds happy, healthy and returning to your garden:
It has not been completely proven that red dye is unhealthy for hummingbirds, so why take the chance. Buy feeders that have a red component. That should be sufficient enough to attract the birds.
Pre-mixed hummingbird nectars are very expensive. The extra vitamins and minerals listed on the packages are not a necessity for the hummingbirds, as half of their diet consists of insects they extract from fresh flowers and plants.
One part sugar and four parts warm tap water, never use distilled or water which comes from a water softener. Stir until the sugar has dissolved. If you use boiling water to make your mixture do not add to the bird feeder until it has cooled to the touch.
Most hummingbird feeders hold enough mixture for about three days, if your solution turns cloudy throw it away even if you think it is a fresh batch.
For winter feedings, three parts water and one part sugar it will help the sugar solution become more weather resistant and prevent freezing.
Never use Honey, because it is becomes toxic and deadly once it starts to ferment, which it does very rapidly.
Hummingbirds like to bath, like other birds, but they usually like the water that drips from leaves, fountains, or lawn sprinklers. Consider placing one of your hummingbird feeders amongst trees or your garden that is in reach of your fountains orlawn sprinkler system Then grab your favorite lawn or deck chair, sit back and enjoy the view.
Written by Tina Rideout. For more information regarding Hummingbirds and Feeders visit her at: Hummingbird Feeders
Article Source: http://EzineArticles.com/?expert=Tina_Rideout
My favorite feeder is the Humzinger Ultra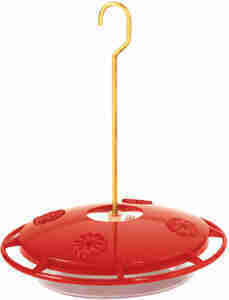 Aspects 12oz Humzinger Ultra With Nectar Guard
 It's inexpensive and  has several features that  makes it well worth the price.
The Humzinger has patented Nectar guard tips which are flexible membranes attached to the feed ports that prohibit entry from flying insects, but allow Hummingbirds to feed as usual. The Humzinger also has a built in ant moat that will stop crawling insects from getting to the nectar. It also has raised flower ports that divert rain.
This mid-size nectar feeder has a 12 oz. capacity and can be hung or post mounted with hardware provided. It has four feeding ports for hummingbirds and is made of unbreakable polycarbonate. Easy to clean.
A good set of small hummingbird feeder brushes is invaluable and will save lots of time, when it comes to keeping your feeder clean.

Product Description
Features: You should wash your feeder every time you refill it. Mold and dirt can build up quickly and can be harmful. Brushes are great for stubborn spots and hard to reach areas. Includes 3 brushes to clean every part of your hummingbird feeder. Brushes clean the stems or opening of the feeder flowers and the sides and bottom of the nectar bottles.

 
If you already have a hummingbird feeder you want to protect from ants and other crawling insects, the ant trap below will do the job.
The first and still the best to protect your Hummingbird and Oriole feeder from ants and other crawling insects. Insert between hanger and feeder and fill with 6 oz. of water, providing a barrier to crawling pests. It is easily mounted with two 3/8″ diameter (open) hangers, plated for excellent weather protection. The TRAP-IT™ is molded of one piece weather resistant plastic.
I hope you enjoyed this article on feeding the hummingbirds.