Using feeders and flowers to attract hummingbirds
by Michael Baughman
 Attracting Hummingbirds
 About Hummingbirds and How to Attract Them to Your Garden
 Create a Hummingbird Garden Habitat For Attracting Hummingbirds
 Designing Your Garden to Attract Hummingbirds
 How To Attract Hummingbirds
 Hummingbirds
 Attracting and Caring for Hummingbirds
 Hummingbirds … Attracting Those Little Flying Powerhouses
 Hummingbird Information- Helpful information about the popular hummingbird!
 Creating a Butterfly and Hummingbird Garden
 How To Attract And Feed Hummingbirds
 A Garden To Draw Hummingbirds
 Create a Hummingbird Habitat to Attract More Hummingbirds
 Hummingbird house
My favorite feeder for attracting hummingbirds is the Humzinger UltraThe best way of attracting Hummingbirds is to use a combination of Humming bird feeders and their favorite flowers, plants, shrubs and vines.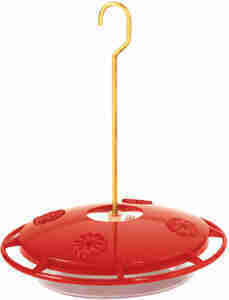 Aspects 12oz Humzinger Ultra With Nectar Guard
 It's inexpensive and  has several features that  makes it well worth the price.
The Humzinger has patented Nectar guard tips which are flexible membranes attached to the feed ports that prohibit entry from flying insects, but allow Hummingbirds to feed as usual. The Humzinger also has a built in ant moat that will stop crawling insects from getting to the nectar. It also has raised flower ports that divert rain.
This mid-size nectar feeder has a 12 oz. capacity and can be hung or post mounted with hardware provided. It has four feeding ports for hummingbirds and is made of unbreakable polycarbonate. Easy to clean.
For ease of cleaning and protection from bees, wasps and ants, this feeder can't be beat for attracting hummingbirds
Attracting hummingbirds with feeders
If you can, hang several Humming bird feeders in different locations around your yard. The more feeders you have for attracting hummingbirds, the better the chance that a Humming bird passing through your area will spot one of the feeders.
The best placement for attracting hummingbirds is in the open where they will be easy to spot, within 15 or 20 feet of the nearest cover such as trees, shrubs or vines, and near any flowers that you might already have growing in your yard. The Hummingbirds will spend a lot of time perched in the safety of the cover between trips to the feeder, so placing your feeders close to these types of cover will make it easier for the Hummingbirds to use them. Later, after the Humming birds have found and are using your feeders, you can move the feeders to a shady spot so that the nectar will keep longer in hot weather.   
How to keep a single Hummingbird from dominating the feeders
Once you attract hummingbirds and have several using your feeder you will see how territorial they can be.
Some of the more dominate Humming birds will try to chase the other birds away from the feeders. Usually it's a dominate male Humming bird that will watch from a nearby perch and give chase as soon as another bird enters the area. One year though, I had a female that would chase the males away anytime they would get near the feeder.
To keep a single Hummingbird from trying to dominate the feeders, use several feeders and place them in different locations where a single bird can't perch and watch all the feeders at the same time. For example, place feeders on opposite sides of the house or where vegetation will hide one feeder from another. As you watch your Hummingbirds you will notice that they will perch on a branch of a tree or shrub, usually in about the same location, to rest and watch the feeder. So position your feeders in locations where they can't see all the feeders from that perch.
Flowers to attract hummingbirds
When using flowers to attract hummingbirds to your feeder, I suggest that you place some of their favorite hummingbird flowers close to your feeder. This will provide more color for attracting hummingbirds that might be passing through your area.
One of my favorite ways to use flowers for attracting Hummingbirds is to plant them in hanging baskets. Hummingbirds seem to like flowers that are tubular in shape and red in color and it will be easy to attract hummingbirds to these kinds of flowers.
Types of hanging flowers that attract hummingbirds
A couple types of hanging flowers that attract hummingbirds, that I like to use in hanging baskets, are red Petunias and red Fuchsias. Another choice readily available in hanging baskets, that comes in red, is Impatiens. Impatiens are good for attracting hummingbirds.
| | |
| --- | --- |
| a basket of red petunias hanging above the feeder for attracting Hummingbirds | 2-10 inch pots of salvia on the ground below the window for attracting Hummingbirds |
If you are using a window feeder for attracting  Hummingbirds, you can mount some kind of simple hook to your window or to the side of your house to hang a basket of flowers next to your feeder. Hanging baskets are one of my favorite ways to attract hummingbirds.
What Kind Of Flowers Attract Hummingbirds

:
My other favorite way for attracting hummingbirds to my feeder is to place some pots, or other container filled with Humming bird flowers, on the ground close to the feeder. A container filled with taller growing Hummingbird flowers will work well here. One of my favorite Humming bird flowers for attracting  hummingbirds is red salvia. You can get varieties of salvia that grow up to 3 feet tall. Red salvia is one of my best flowers to attract hummingbirds.
How long does it take to attract hummingbirds?
Assuming that there are already hummingbirds in your area, to answer the question, how long does it take to attract hummingbirds? ….. I would say about 5 minutes.
The very first time I tried to attract hummingbirds, I went to the garden center and bought 2 pots of  honey suckle vines that were about 3 feet tall and had some blooms on them. I had read that they would attract hummingbirds.
I took them out of the car and set them in the backyard and went into the house. I came out 5 minutes later and to my surprise there was already a hummingbird feeding on them. Yes they do attract hummingbirds!
That was the first one I had seen in the area. So, according to my own experience, how long does it take to attract hummingbirds? …I would say about 5 minutes. If I had walked a litter faster I might have found that you could attract hummingbirds in 4 minutes or less.
Here is an excerpt on attracting hummingbirds from the "How To Hand-Feed Hummingbirds" video available elsewhere on this site

Hand-Feeding Hummingbirds

how-to DVD video
video-how to plant a pot of hummingbird annuals for attracting hummingbirds
 

Attracting Hummingbirds by Planting A Hummingbird Garden
What kind of plants do you put in a garden to attract hummingbirds?
If you have more space and are willing to spend more time, you might want to plant a small flowering Hummingbird garden for attracting hummingbirds into your yard.
In your garden, to attract hummingbirds, you will want plants that will be blooming continually throughout the season while the Hummingbirds are present in your area. You can make a visit to your local nursery to get suggestions on which Humming bird plants are best suited for attracting  hummingbirds in your particular area and climate.
In my garden, to attract hummingbirds, I have used a combination of annuals, perennials, shrubs and vines, to provide continuous blooms from the Spring through Fall.
For attracting  hummingbirds in the Spring, my favorite choice is a red Weigela bush. The Weigelas bloom early and are loaded with lots of color.
Here in my garden in northwestern Ohio, the Hummingbirds usually arrive in the Spring just about the time the Weigelas are about to start blooming (usually around the first part of May).
 Sometimes they might arrive a few days earlier, so I start hanging my feeders in the yard towards the end of April……to be sure of attracting those early arrivals.
pink variegated Weigela bush is a  good choice to attract hummingbirds
Another early blooming favorite  that I use in my backyard, are Trumpet honeysuckle vines (Lonicera sempervirens). They will bloom from May to August and have orange or red flowers.
If you have a fence or trellis to grow one on, these Hummingbird vines will make an excellent addition to any  Hummingbird garden.
Trumpet honeysuckle vines (Lonicera sempervirens) is a great vine to attract hummingbirds

see video above for Trumpet honeysuckle vines
The Weigelas will only bloom for maybe a couple of weeks, so the Honeysuckle vines will provide blooms to attract hummingbirds well into the Summer.
A favorite perennial of mine for attracting hummingbirds, is Beebalm (Monarda didyma). The Beebalm with its scarlet flowers, will start blooming in June and continue to bloom through August.
Beebalm (Monarda didyma) is an exceptiona plant to attract hummingbirds
The final touch to complete my Hummingbird garden and make it totally irresistible to Hummingbirds is to plant some red Salvia (Salvia splendens). In cooler climates such as mine, Salvia are planted as annuals and are replanted each Spring when the danger of frost has passed. Once they are planted and get to growing well, the Salvia will provide plenty of red blooms for attracting  hummingbirds and they will provide nectar for the Hummingbirds from Spring right up until frost.
red Salvia (Salvia splendens) a favorite annual for attracting hummingbirds
So here's what we have …..we have the Weigela with lots of colorful blooms to attract and hold those early arriving birds, then as the Weigela starts to fade, the Honeysuckle will continue to bloom, to be joined by the Beebalm. As these plants start to provide less and less blooms, the Salvia will reach it's peak blooming period and will continue to carry the load of feeding and attracting hummingbirds the remainder of the time that the Hummingbirds are in your area.
Using

shade plants for attracting Hummingbirds
Just because you have shade, doesn't mean you can't attract hummingbirds with plants.
Shade hummingbird gardens can be planted if you are short on sunlight.
In the shady areas of my garden where there isn't enough sunlight to grow my favorite flowers, I like to use Day Lilies and Hostas to help attract hummingbirds.
| | |
| --- | --- |
| | |
| Day Lily – hummingbird shade plant | Hosta- hummingbird shade plant |
Not only do they attract hummingbirds, but they also have a wonderful fragrance to add to your shade hummingbird gardens.
What Kind Of Flowers Attract Hummingbirds
Other hummingbird shade plants for attracting hummingbirds
Cardinal flower. Partial shade to full sun. Hummers love this plant.  Looks good planted with Hostas.
Cardinal Flower (Lobelia cardinalis)
Coral Bells….  attract hummingbirds and will grow in part shade to shade.
Coral Bells-(Heuchera sanguinea)
Bleeding Heart. 
Impatiens Shade to partial shade
Fuchsia. Full to partial shade.
video: info about attracting hummingbirds, flowers for attracting hummingbirds, tips on hummingbird feeders, making hummingbird nectar, hanging feeders and keeping ants away from your hummingbird feeder.
video: plants that attract hummingbirds and butterflies
http://www.youtube.com/feature=player_embedded
video: more What Kind Of Flowers Attract Hummingbirds
video: How to attract hummingbirds in Florida
How To Create a Backyard Habitat Irresistible to Hummingbirds. Florida Native Plants are Listed Including both Annuals and Perennials and Everything from Ground Covers to Trees. Learn how to attract Florida hummingbirds.
Hummingbird pl

ants that you might use

for attracting hummingbirds

into you

r yard:
| | |
| --- | --- |
| Perennials | Vines |
| beardtongue (Penstemon cardinalis) | trumpet vine (Campis radicans) vine |
| beebalm (Monarda didyma) | trumpet honeysuckle (Lonicera sempervirens) |
| cardinal flower (Lobelia cardinalis) perennial | Japanese honeysuckle (Lonicera japonica) |
| columbine (Aquilegia) perennial |   |
| coralbells (Heuchera sanguinea) perennial | Annuals |
| delphinium (Delphinium) perennial | salvia (Salvia splendens) perennial/annual |
| red-hot-poker (Kniphofia uvaria) perennial | tobacco plants (Nicotiana) |
| lupine (Lupinus) perennial | petunia (Petunia x hybrida) perennial/annual |
| nasturtium (Tropaedum majus) |   |
| petunia (Petunia x hybrida) perennial/annual |   |
| Shrubs |   |
| butterfly bush (Buddleia daviddi) bush |   |
| Weigela bush |   |
Enjoy your hummingbirds and I hope this article about What Kind Of Flowers Attract Hummingbirds,will help you in your pursuit of attracting hummingbirds
back to top of attracting hummingbirds page
The owner of this website receives sales commissions for products advertised on this site.