Choosing a Hummingbird feeder
 Hummingbird Feeders: Sheltering Nature's Lovely Creatures
 Hummingbird Feeders
 Feeding the Hummingbirds
 Humming Bird Feeders
 Hummingbird Feeders – Your Guide to Get Hummingbirds Buzzing Around Your Backyard
 All About Humming Bird Feeders
 Non-Leaking Hummingbird Feeders
Even before manufacturers took advantage of the growing popularity of feeding hummingbirds, the first hummingbird feeders were typically constructed out of laboratory apparatuses.
These were constructed primarily to attract the birds that would normally fly around a garden. To these, the response of the manufacturers is to market and create sugar-water feeders. Many of which are uniquely created thus giving logic to the high cost of each feeder. But most are mass-produced to provide such equipments to the larger public.
Like with most things in the market, hummingbird feeders come in literally all forms of shapes, sizes and designs. The ideal feeders are those that can be cleaned easily and hangs readily. These must also be sturdy and must have limited number of parts that can be separated or broken. Majority of hummingbird feeders comes with both glass and plastic reservoirs.
Glasses have longer lifespan and may be cleansed easily but may shatter when dropped. Plastics on the other hand are relatively cheaper than that of the glass reservoirs but discoloration is notable.
Small feeders typically have only a port for feeding while larger feeders have three or more. Many of which may provide perches for hummingbirds to rest upon while feeding.
The most common mistake among novice feeders is the buying of overly sized hummingbird feeders. This is wrong since the water-sugar solution easily stales even before the arrival of the birds.
One hummingbird feeder may not be enough for the birds in a moderately sized garden. It is best to place two or if possible, several hummingbird feeders throughout the garden. Chances are, the dominant birds would not defend all locations. This may welcome larger number of birds in your place. Logically, it is a good idea to put these hummingbird feeders in locations where you may observe the birds feeding. After all, the sugar solution we give is just a bonus the birds get for dropping by in our places. They, at all rate, can survive even without our help.
Most hummingbirds are gone during winter. This is because they migrate to the tropical regions. If in any case a bird visits you during this season, it is likely that it is genetically inferior and cannot travel. To provide shelter for such birds, some enthusiasts prefer to leave the hummingbird feeders outside their homes, offering both food and sanctuary for the lovely creatures. The sugar-water solution in the hummingbird feeder must still be changed daily.
When choosing a hummingbird feeder, most experts recommend those that are red in color. Though there so little scientific research to support the claim that hummingbirds are especially attracted to red, most feeders seem to appear in shades of red. Plus the common practice of dying the water sugar solution with red. Choose a hummingbird feeder that has excellent protection over ants.
It is also good to restrain from buying a yellow-colored feeders. This is to avoid the bees and wasps from being attracted to the feeder. Look also for feeders that have built-in perches and those that are small. Only when you have determined how thick your visitation of these birds is, may you only start using bigger feeders. This principle will prevent the nectar solution from spoilage.
Hummingbirds are truly marvelous to look at especially with their aerial display. This probably is reason enough why most enthusiasts go crazy over feeding hummingbirds.
Robert Thatcher is a freelance publisher based in Cupertino, California. He publishes articles and reports in various ezines and provides hummingbird feeder resources on http://www.your-hummingbird-feeder.info.
Article Source: http://EzineArticles.com/?expert=Robert_Thatcher
My favorite feeder is the Humzinger Ultra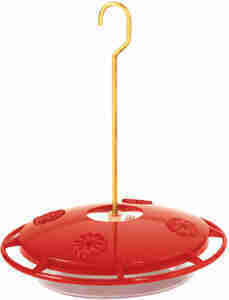 Aspects 12oz Humzinger Ultra With Nectar Guard
 It's inexpensive and  has several features that  makes it well worth the price.
The Humzinger has patented Nectar guard tips which are flexible membranes attached to the feed ports that prohibit entry from flying insects, but allow Hummingbirds to feed as usual. The Humzinger also has a built in ant moat that will stop crawling insects from getting to the nectar. It also has raised flower ports that divert rain.
This mid-size nectar feeder has a 12 oz. capacity and can be hung or post mounted with hardware provided. It has four feeding ports for hummingbirds and is made of unbreakable polycarbonate. Easy to clean.
For ease of cleaning and protection from bees, wasps and ants, this feeder can't be beat.
A good set of small hummingbird feeder brushes is invaluable, when it comes to keeping your feeder clean.

Product Description
Features: You should wash your feeder every time you refill it. Mold and dirt can build up quickly and can be harmful. Brushes are great for stubborn spots and hard to reach areas. Includes 3 brushes to clean every part of your hummingbird feeder. Brushes clean the stems or opening of the feeder flowers and the sides and bottom of the nectar bottles.

 
| | |
| --- | --- |
| | The first and still the best to protect your Hummingbird and Oriole feeder from ants and other crawling insects. Insert between hanger and feeder and fill with 6 oz. of water, providing a barrier to crawling pests. It is easily mounted with two 3/8″ diameter (open) hangers, plated for excellent weather protection. The TRAP-IT™ is molded of one piece weather resistant plastic. |
I hope you enjoyed this article on hummingbird feeders.