In Native legend the hummingbird is said to be a healer as well as a carrier of joyful messages. During times of great pain or great sorrow, if a hummingbird appears it is a sign that the healing will soon begin. Legend has it that if the hummingbird comes to you and hovers above you, it is delivering a message of healing.
Some say the if you wear hummingbird jewelry that the jewelry will make you feel happy and peaceful.
Here is a story about the hummingbird and what it means to Native Americans in the northwest part of the country. The tiny hummingbird is also called Sah Sen in Coastal Native art. It is thought to be a messenger of joy and supposedly is a symbol of good luck as well as representing friendship and playfulness. If a hummingbird is seen prior to a major event such as going hunting or traveling to another village, the sighting is supposed to be a positive sign. The hummingbird's ability to fly back and forth at great speeds and to hover, is believed to be a special skill the hummingbird has to help guide the people. If the people fall behind, the hummingbird can easily back up to keep the pace.
One of the stories about the hummingbird tells about a warm spring day. Summer was on the way and all the flowers wee in full bloom. A mother and her daughter were wading through the green grass as they enjoyed the beautiful colors of the blooming flowers. As a hummingbird joined them, they stopped to watch as it buzzed and darted from flower to flower.
The child was fascinated by the little hummingbird and asked it's mother why such a tiny bird would want to fly so fast. And also asked why doesn't the bird stay at one flower instead of visiting them all? The mother and the child sat down on a small hill overlooking the field and the mother said, "Let me tell you the story of Hummingbird."
Many years ago there was a fragrant flower that rose every spring to display her beautiful petals and bright colors for all the world's creatures to enjoy. The people and animals waited anxiously each spring for this special flower to appear. On that day they knew the warm, kind rays of summer had arrived. Raven saw how much joy this flower brought to the world, so the next spring when it appeared, he transformed it into a tiny bird. The bird had the colors of the green spring grass and the flashing red of a setting sun. Raven gave the bird a special gift to fly like sunlight flickering through tall trees. He also gave it a message to take to all the flowers. That's why today we see Hummingbird buzzing from flower to flower, whispering a message. Hummingbird is thanking each flower for making our world a more beautiful place.
The mother looked at her child and said, "As you grow up, remember that like each flower, each person has gifts to give the world. In return that person will be thanked by the birds, animals and flowers for helping to make our world a better place for every one."
The above story is as told by Robert James Challenger in the book Eagle's Reflections and other Northwest Coast Stories available at Hill's Native Art in Tofino, British Columbia. They have been our valued wholesale jewelry customers for many years and carry a wide selection of art work including hummingbird jewelry and Native American jewelry.
The artisans of copperreflections.com have been making handcrafted jewelry and unique gift ideas since 1985. Inspired by the beauty of wildlife, nature and Native Peoples of North America, each piece is carefully designed and handcrafted especially for you. Our designs are silver plated and diamond cut on copper handcrafted jewelry and unique gift ideas.
Read more by this author, Jennifer Hisir, at Handmade Jewelry Blog by Copper Reflections.
Article Source: http://EzineArticles.com/?expert=Jennifer_Hisir
http://EzineArticles.com/?Hummingbird-Jewelry—Enjoy-Wearing-Handmade-Jewelry-With-a-Story&id=2989176
Click the link Hummingbird Jewelry to see a large selection of all kinds of hummingbird jewelry.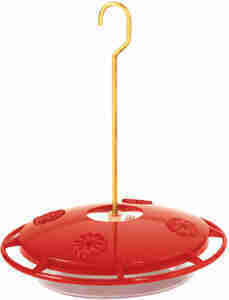 My favorite choice of hummingbird  feeders is  Aspects 12oz Hummzinger Ultra With Nectar Guard
It's only $28.18 and  has several features that  makes it well worth the price.
The HummZinger has patented Nectar guard tips which are flexible membranes attached to the feed ports that prohibit entry from flying insects, but allow Hummingbirds to feed as usual. The HummZinger also has a built in ant moat that will stop crawling insects from getting to the nectar. It also has raised flower ports that divert rain.
This mid-size nectar feeder has a 12 oz. capacity and can be hung or post mounted with hardware provided. It has four feeding ports for hummingbirds and is made of unbreakable polycarbonate. Easy to clean.
For ease of cleaning and protection from bees, wasps and ants, this feeder can't be beat.