How to make hummingbird food

at home to attract hummingbirds:



 Hummingbird Food Recipe
 Homemade Hummingbird Nectar
 Hummingbird Feeders and Nectar
 Homemade Hummingbird Food Recipe
 How To Make Hummingbird Food At Home
 Recipe for hummingbird food
Learn how to make hummingbird food to add to your enjoyment of hummingbirds. Also, if you learn how to make hummingbird food you will save money and never again be running to the store because you are out of nectar.
It's spring at last, and here in Southern Colorado, it seems we've been waiting a long time to glimpse our favorite wild bird, the hummingbird. We just love watching these tiny, lithe creatures of such vivid color outside our window. There have been a couple summers here that we've had twenty different hummingbirds at our three feeders. We had to refill them every day just to keep up!
We're fortunate to have very good soil in our yard, while most of this part of the country is poor, rocky soil. This makes growing perennials easier and more bountiful. I say easier because we are in a high-desert climate and must water constantly to keep things green.
Those two things: certain flowers, and running the sprinkler system help attract the hummingbirds to our yard. With their specially designed beaks and long tongues, they just love the flowers suited to their anatomy. Our columbines, torch lilies and butterfly bushes are like giant billboards advertising a hummingbird-friendly play land.
We've tried to plant perennials that bloom at different times throughout the summer so that we always have something to attract the hummingbirds. What a difference it has made. We usually get to enjoy the hummingbirds at least a full month before they discover our next door neighbors yard.
While you may not need to run a sprinkler in the summer months like we must, you can install a fountain or bird bath that will attract just as many hummingbirds. They love the splash and spray of the water and we've seen them many times hovering and dipping over the nearby river where the water hits the rocks and sprays up.
Besides the flowers and water, we offer our hummingbirds feeders filled with sugar water. There is no need to buy mix for use in the feeders as it is simpler and less expensive if you know how to make hummingbird food of your own. Here's the recipe:
how to make hummingbird food:
-One part sugar
-Four parts water
-Boil for 2 minutes
-Cool and fill feeders made for hummingbirds
Bet you didn't know that how to make hummingbird food could be so easy!
There is no need to add food coloring to the feed and it may actually be detrimental to the birds. Why take the chance?
A little trick we've learned over the years is to put a short piece of transparent tape around the stem that holds the bee guard in place. That way it keeps the larger, more aggressive birds like the Orioles from pulling out the bee guard and guzzling the food.
We've tried many different designs of feeders and found that the birds like the ones with hard plastic "flowers"' surrounding the bee guards. We've not had much luck with the drip-type feeders.
Be sure to rinse the feeders well with very warm water between use. It is not recommended to put any part of a hummingbird feeder in the dishwasher or use detergent. To make sure the feeders are perfectly clean before storing for the winter, we use a tiny bit of chlorine bleach and water. You must be sure to rinse the feeders very well if you do need to use bleach.
So if you're looking to attract beautiful hummingbirds to your yard, remember the flowers, the water and some food. You'll soon have your own flock of hummingbirds who return to your yard each year!
Cindy Dykstra is an editor for Article-DirectorySite.com where you can find articles free to use on your web site, blog or newsletter.
_____________________________________________________
Now that you know how to make hummingbird food, you will need to get a feeder that is easy to take apart and clean, and one that will also protect your hummingbird food recipe from bees ants and wasps.
My favorite choice of hummingbird  feeders to use with the homemade hummingbird nectar recipe is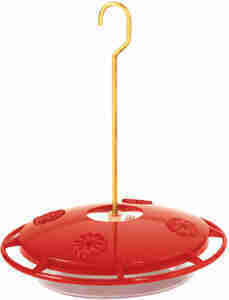 Aspects 12oz Hummzinger Ultra With Nectar Guard
 It's inexpensive and  has several features that  makes it well worth the price.
The HummZinger has patented Nectar guard tips which are flexible membranes attached to the feed ports that prohibit entry from flying insects, but allow Hummingbirds to feed as usual. The HummZinger also has a built in ant moat that will stop crawling insects from getting to the nectar. It also has raised flower ports that divert rain.
This mid-size nectar feeder has a 12 oz. capacity and can be hung or post mounted with hardware provided. It has four feeding ports for hummingbirds and is made of unbreakable polycarbonate. Easy to clean.
For ease of cleaning and protection from bees, wasps and ants, this feeder can't be beat.
If you already have a hummingbird feeder, and you want to protect it from ants and other crawling insects, the ant moat below will do the job.
Trap-It Ant Moat for Hummingbird Feeders
Product Description
An ant moat is still the best way to protect your hummingbird feeder from crawling insects such as ants. All you have to do is inset the moat between the feeder hanger and the feeder itself. Then fill the ant moat with  water to provide a barrier for crawling insects.

I hope you enjoyed this article on how to make hummingbird food.
back to top of how to make hummingbird food page