A homemade hummingbird nectar recipe that's quick and easy to make



The hummingbird nectar recipe is 4 parts water to 1 part sugar. Stir to dissolve sugar. Boil 2 minutes. When the nectar is cool add to feeder.
 Hummingbird Food Recipe
 Homemade Hummingbird Nectar
 Hummingbird Feeders and Nectar
 Homemade Hummingbird Nectar Recipe
 How To Make Hummingbird Food At Home
 Recipe for hummingbird food
No need to buy the powdered Hummingbird Nectar mix from the store for this rewarding hobby. Instead, make your with this simple homemade hummingbird nectar recipe. You only need water and white sugar – super simple and easy to make.
Homemade nectar instructions:
1 part regular white sugar to 4 parts water.
Example: 1 cup sugar, 4 cups water
1. Boil the water.
2. Add sugar and stir until dissolved.
3. Let cool.
4. Refrigerate in a designated hummingbird feeder pitcher.
Using a microwave works too. Put the water in a microwave safe container and heat to boiling point. Carefully remove and add sugar. Stir until the sugar is dissolved. I fill my clean feeders and set them aside to cool and let the rest cool a bit before storing in the fridge.
Nothing extra: There is no need to add anything extra to the homemade hummingbird nectar recipe, i.e. coloring, honey, etc. It's not necessary and could be harmful. Honey will quickly ferment becoming poisonous to the birds.
Storing homemade hummingbird nectar: I store all varieties of my wild bird (Orioles, Hummingbirds, Butterflies, etc) "juice" up to two weeks in the fridge, but generally need to make it more often than that.
Tip: I use a Rubbermaid container or a clean milk carton, clearly marked, to store my hummingbird juice in the refrigerator. Another idea I recently read is to freeze the extra. I may try this by putting it in a freezer bag and freezing flat. Once it is frozen, it would break up easily to place into the feeder.
Discard: If the juice in the feeder(s) becomes cloudy, or mucky, empty, clean and refill.
Cleaning: Make sure bird feeders are cleaned every few days to a week to prevent any ickies. Cleaning with a solution of vinegar and hot water is good.
Location and Feeders: More than one feeder, placed strategically around the yard, will encourage more hummingbirds to visit at a time. They are territorial birds, so place feeders out of the line of sight of each other. note: however, I have had more than one at a feeder at time with no ill-will directed towards each other. Experiment a bit. Enjoy your visitors!
Judi Cox is a wife and mother of 4 children. Her hobbies include, but are ever growing, making handmade soap, gardening, crafts, web design, reading…
________________________________________
Now that your homemade hummingbird nectar recipe is done, you will need to get a feeder that is easy to take apart and clean, and one that will also protect your homemade hummingbird nectar recipe from bees ants and wasps.
My favorite choice of hummingbird  feeders to use with the homemade hummingbird nectar recipe is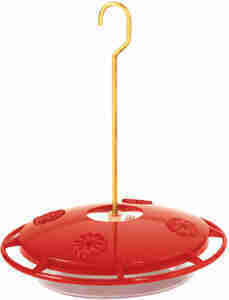 Aspects 12oz Hummzinger Ultra With Nectar Guard
 It's inexpensive and  has several features that  makes it well worth the price.
The HummZinger has patented Nectar guard tips which are flexible membranes attached to the feed ports that prohibit entry from flying insects, but allow Hummingbirds to feed as usual. The HummZinger also has a built in ant moat that will stop crawling insects from getting to the nectar. It also has raised flower ports that divert rain.
This mid-size nectar feeder has a 12 oz. capacity and can be hung or post mounted with hardware provided. It has four feeding ports for hummingbirds and is made of unbreakable polycarbonate. Easy to clean.
For ease of cleaning and protection from bees, wasps and ants, this feeder can't be beat.

If you already have a hummingbird feeder, and you want to protect it from ants and other crawling insects, the ant moat below will do the job.

Trap-It Ant Moat for Hummingbird Feeders
An ant moat to keep ants away from your hummingbird nectar
Product Description
The best way to keep ants and other crawling insects out of your Hummingbird and Oriole feeder is to use an ant moat. Insert the ant moat between the hanger and the hummingbird or oriole feeder and fill with water. The water will provide a barrier and keep crawling pest out of your bird feeder. The ant moat's red color will help attract hummingbirds to your feeder.
To read more articles on homemade hummingbird nectar recipe, click the link Homemade Hummingbird Nectar Recipe.
Now that you have your hummingbird nectar ready to go, there is one more important issue to deal with. That is how to clean your hummingbird feeder. If you have the HummZinger Ultra feeder, your feeder cleaning will be easy. Click on the link and you will learn how to tell when it's time to clean your hummingbird feeder and the proper way to clean it.
Have fun with your hummingbirds and I hope you enjoyed this article about the homemade hummingbird nectar recipe.
back to top of homemade hummingbird nectar recipe page
copyright 2006 how to enjoy hummingbirds/ homemade hummingbird nectar recipe